Sports »
Outdoor activities »
Clothing »
Trousers »
Hunting Trousers »
Without Shell »
Men's »
Fjällräven
Lappland Hybrid Hunting Trousers
Price
€or in installments from 13.49 €/month
+ delivery costs
Availability
Some items are available in our stock. The delivery time for this product is
immediately
if it's in our stock. Otherwise it's approximately
7 - 21 day(s)
from the order. The reliability of the estimation is quite good.
Detailed availability
Notify me when this product is in stock
Reviews
Description
Fjällräven Lappland Hybrid trousers are lighweight, hardwearing trousers with optimised fit for active hunting. The design is based on the award-winning FJällräven Keb Trousers and the trousers are made from stretch fabric for excellent freedom of movement with silent, weather resistant G-1000 Silent Eco on the rear, front of the thighs, over the knees and inside lower legs. An obvious first choice for physically intensive hunting, such as bird stalking that involves bursts of activity in varied terrain, or for when hunting with dogs.
Ventilation openings with zippers from the knee to the hip release excess heat, and there are also zippers on the outside of the calves. There are two spacious leg pockets, both with flaps and press buttons – the left hand one also has a zipper while the right hand one has an inside mesh pocket for a mobile phone or radio. In addition there are two hand pockets and a knife pocket. The seams at the inside of the thighs have been placed to minimise the risk of chafing and the double layer of fabric over the calves can withstand wear and tear from boots.
Strap adjustments with buttons secure the leg endings around boots and there is a boothook that can be fastened to laces. Reinforced brace zones allow braces to sit well should you decide to use them.
Map pocket
Reinforcements
Pre-shaped knees
Adjustable leg endings
Kinfe pocket
Leg-type:Full leg
Leg ending:Fixed length
Fjällräven size guide
The approximated packaged size or the size of the product's package is 200 x 300 x 70 mm.
Gender
Men
Weight
0.6
kg (with sales package 0.77 kg)
Warranty
12 month(s)
Comments
Iurii N. wrote 01.06.2019 :
Perfect trousers for hunting! FJALLRAVEN Lappland amazing!
Rainer S. wrote 10.08.2018 :
5+
Add your own comment
Brand

See Also
€
Outlet price from
145.69 €
(
24
)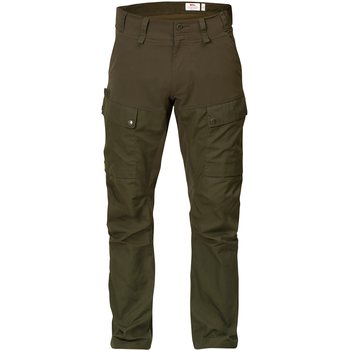 Products that have often been ordered with this product: