Sports »
Outdoor activities »
Clothing »
Trousers »
Hunting Trousers »
Without Shell »
Men's »
Fjällräven
Drev Trousers
Price
€
+ delivery costs
Availability
Some items are available in our stock. The delivery time for this product is
immediately
if it's in our stock. Otherwise it's approximately
7 - 21 day(s)
from the order. The reliability of the estimation is quite good.
Detailed availability
Notify me when this product is in stock
Reviews
Description
Comfortable trousers for active hunting in durable G-1000 Silent with stretch panels at the back of the knees and around the waist. Reinforced with two layers of fabric and waterproof Hydratic on the rear and knees so you will not get wet when you sit down on damp surfaces. Pre-shaped knees with pockets for knee pads (an accessory). Two hand pockets, one large bellow pocket with flap on the right leg and one smaller pocket for multi tools on the left leg. Comfort fit and regular waist. Strap adjustment in the leg endings and a boot hook that can be attached to the laces to hold the trouser leg in place.
Fjällräven size guide
The approximated packaged size or the size of the product's package is 300 x 200 x 70 mm.
Gender
Men
Weight
0.67
kg (The product may have a light retail packaging.)
Warranty
12 month(s)
Comments
Ragnar P. wrote 16.10.2019 :
Very comfortable and quiet.
Iurii N. wrote 01.06.2019 :
Perfect for hunting!!
Rainer S. wrote 10.08.2018 :
5+
Add your own comment
Brand

See Also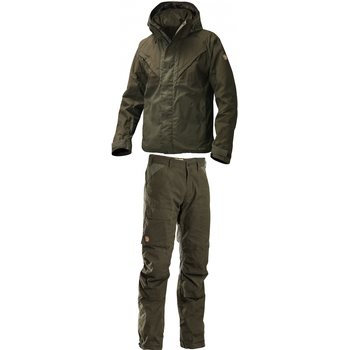 Products that have often been ordered with this product: