Sports »
Outdoor activities »
Clothing »
Jackets »
Hunting Jackets »
Without Shell »
Men's »
Fjällräven
Lappland Hybrid Jacket
Price
€
+ delivery costs
Availability
Immediately
. You can only order items we have in stock.
Detailed availability
Notify me when this product is in stock
Reviews
Description
Fjällräven Lappland Hybrid Hunting Jacket is a lightweight, hardwearing jacket for the discerning hunter who is looking for highly functional equipment for active hunting days. Designed so that you can move quickly and freely over large distances. Its "DNA" has been taken from the award-winning This gives a quiet, lightweight and very pliant jacket with excellent breathability.A number of well-thought-through features make it easier for you to focus on the hunt and your surroundings. One example is the easily accessed sleeve pocket with ammunition holders on the left sleeve, and the attachment for a communication radio on the left shoulder. Additional ammunition can be stored in a pair of large, flat pockets with flaps at the lower front. There are also two spacious vertical chest pockets, both with zippers and one with an inside pocket in mesh for a radio or mobile phone.

The zippered openings at the sides release excess heat and the front zipper is two way so it can be opened from both ends for ventilation. A well fitting, adjustable hood provides perfect protection against cold winds but can be zipped off when it is not in use. Drawcord adjustments at the hem and Velcro adjustments at the sleeve cuffs.
Product specification



Fjällräven size guide
The approximated packaged size or the size of the product's package is 350 x 300 x 70 mm.
Gender
Men
Weight
0.91
kg (with sales package 1.00 kg)
Warranty
12 month(s)
Comments
Iurii N. wrote 03.07.2019 :
Very nice! The best hunting clothes!
Rainer S. wrote 10.08.2018 :
5+
Add your own comment
Brand

See Also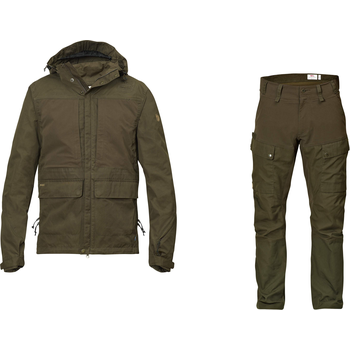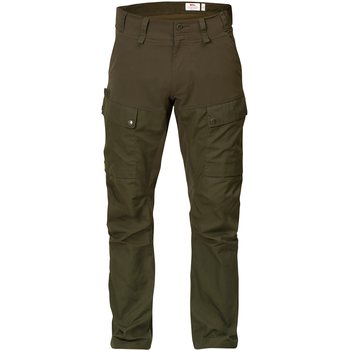 Products that have often been ordered with this product: