Sports »
Outdoor activities »
Clothing »
Jackets »
Hunting Jackets »
With Shell »
Women's »
Chevalier
Outland Ladies Pro Action Coat
Price
€
+ delivery costs
Availability
Some items are available in our stock. The delivery time for this product is
immediately
if it's in our stock. Otherwise it's approximately
3 - 15 day(s)
from the order. The reliability of the estimation is good.
Detailed availability
Notify me when this product is in stock
Reviews
Description

This jacket keeps you warm and dry even in the most extreme conditions, whether in a storm, torrential rain or working hard. A light shell garment with the Gore-Tex membrane laminated inside the brushed microfibre outer fabric.

Mesh lining for optimum ventilation and low weight. Braces in jacket. Base pockets with cartridge holders, hookable pocket flaps for quick loading. Handwarmer pockets, radio pocket, spacious back pocket, GPS pocket, phone pocket, Napoleon pocket and inside pockets.

Zips under the sleeves for ventilation. Elastic Gore-Tex in sides and round sleeves. Built-in buffer zone to stop water travelling up inside the jacket.
Weight
1.4
kg (Includes the weight of the package if present)
Comments
Add your own comment
Brand

See Also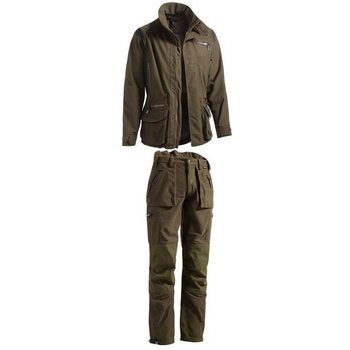 Products that have often been ordered with this product: