Lajit »
Sukellus »
Harppuunat »
Paineilmaharppuunat »
Seacsub
Alligator C/R 65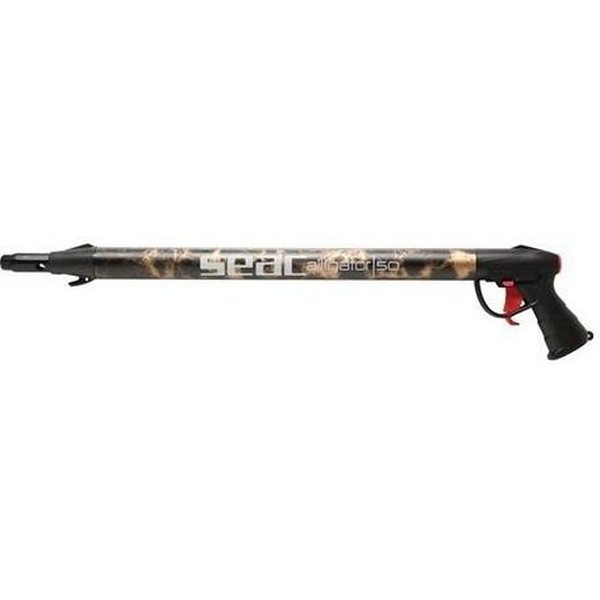 Hinta
€tai osamaksulla alkaen 14.91 €/kk
Saatavuus
Arviolta
14 - 21 vrk tilauksesta.
Arvion luotettavuus on hyvä.
Varastotilanne
Haluan ilmoituksen, kun tuotetta tulee lisää varastoon
Tuotteen kuvaus
Tank: aluminum alloy cylinder with a 40 mm diameter. No bending problems thanks tothe tank structure, to the innovative material it is made with, and the spear that is perfeclycoaxial with the thrust of the piston. Painted camouflage treatment.

• Butt: the end hasa reduced diameter in order to increase the visibility of the spear, thereby improvingthe line of vision. New Alligator Series coloring: ideal for fishing in surf.
• Handle: with acomputerized human engineered design. Constructed in two soft, overprinted materialsto increase comfort and grip. New Alligator Series coloring: ideal for fishing in surf.
•Barrel: with a reduced diameter of 11.2 mm, it allows reduction of the water dischargethat the piston displaces, with a reduction in loading effort and notable increase in thespear speed. This rifle also takes spears with a reduced diameter.
• Characteristics: thereduced dimensions of the piston that acts on the triggering mechanism allow excellentsensitivity and reduced shooting effort.
• Comes with: steel spear, injector, harpoon,harpoon loader, line, rifle carrying case.

Tuotteen koko pakattuna tai myyntipakkauksen koko on arviolta 780 x 50 x 140 mm.
Paino
1.45
kg (Tuotteella voi olla kevyt myyntipakkaus.)
Takuuaika
12 kk
Kommentit
Lisää kommentti
Mielipiteet
Tuotemerkki